Antibiotic resistance knows no border of any country since there is free movement of both people and trade between one continent and another, which can serve as a route for the spread of a resistant pathogen.
The high-speed and ingenuity of microbes in developing resistance to available drugs (or antibiotics) is not balanced with the slow pace of developing new antimicrobials, and this calls for urgent action to reverse the trend and preserve the efficacy of available drugs.
A holistic multidisciplinary action is therefore urgently needed in curbing the emergence and spread of antibiotic resistant bacteria so that we do not run into a post – antibiotic era. Some measures that can be used to control antibiotic resistance in both the community and hospital environment are as follows:
Development of novel drugs and new ways of fighting bacterial related infections.
Hand washing as a measure of infection control (Figure 1).
Review of antibiotic use in hospitals.
Updating of clinicians, nurses, pharmacists, and even patients on rationale antibiotic use.
Good personal hygiene in both the hospital and in the community.
Restriction of human medicine in livestock and animal feeds.
Patronage of over – the – counter (OTC) drugs by patients for self-medication without doctor's prescription should be discouraged.
Patients should always endeavour to take full course of their drugs when under any medication.
Continues multidisciplinary research into the phenomenon of antibiotic research.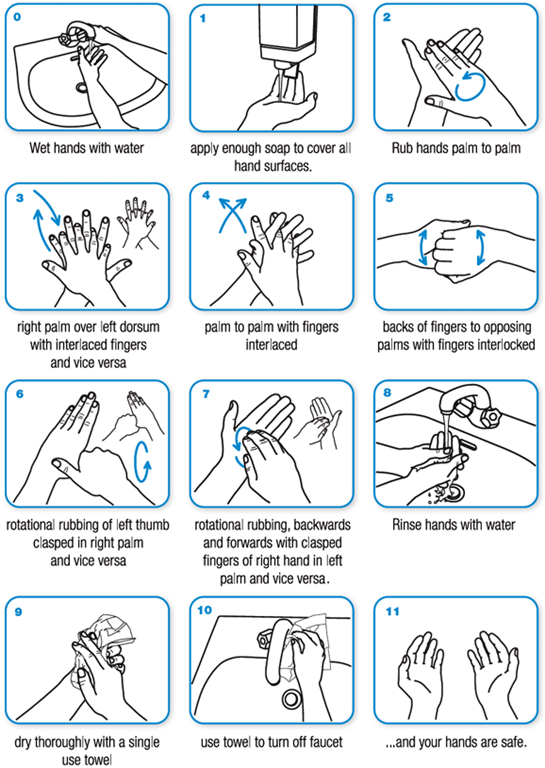 Keeping hands clean through improved and effective hand hygiene or hand washing is one of the most important steps we can take to avoid getting sick and spreading germs to others. Many diseases and conditions are spread by not washing hands with soap and clean, running water. If clean, running water is not accessible (as is applicable in many developing countries), as is common in many parts of the world, use soap and available water. If soap and water are unavailable, use an alcohol-based hand sanitizer that contains at least 60% alcohol to clean hands. WHO
References
Arora D.R (2004). Quality assurance in microbiology. Indian J Med Microbiol, 22:81-86.
Ashutosh Kar (2008). Pharmaceutical Microbiology, 1st edition. New Age International Publishers: New Delhi, India. 
Axelsen P.H (2002). Essentials of antimicrobial pharmacology. Humana Press, Totowa, New Jersey, USA. Al-Jasser A.M (2006). Extended – Spectrum Beta – Lactamases (ESBLs): A Global Problem. Kuwait Medical Journal, 38(3):171-185.
Bisht R., Katiyar A., Singh R and Mittal P (2009). Antibiotic Resistance – A Global Issue of Concern. Asian Journal of Pharmaceutical and Clinical Research, 2 (2):34-39.
Block S.S (2001). Disinfection, sterilization and preservation. 5th edition. Lippincott Williams & Wilkins, Philadelphia and London.
Cars O and Nordberg P (2005). Antibiotic resistance: The faceless threat. International Journal of Risk & Safety in Medicine, 17 (3/4): 103-110.
Finch R.G, Greenwood D, Norrby R and Whitley R (2002). Antibiotic and chemotherapy, 8th edition. Churchill Livingstone, London and Edinburg.
Joslyn, L. J. (2000). Sterilization by Heat. In S. S. Block (Ed.), Disinfection, Sterilization, and Preservation (5th ed., pp. 695-728). Philadelphia, USA: Lippincott Williams and Wilkins.
Lai P.K and Roy J (2004). Antimicrobial and chemopreventive properties of herbs and spices. Curr. Med. Chem, 11 (11): 1451–1460.
Livermore D.M (2004). The need for new antibiotics. Clinical Microbiology & Infection, 4(10): 1-9.
Mascaretti O.A (2003). Bacteria versus antibacterial agents: An integrated approach. Washington: ASM Press.
Nally J.D (Ed.) (2007). Good manufacturing practices for pharmaceuticals. Sixth edition. Informa Healthcare USA, Inc, New York.