pH meter is a piece of equipment that is used to maintain the actual pH of a solution i.e. the hydrogen ion concentration of a particular solution. In some instance, a pH indicator is used to evaluate the actual pH of a solution, but the pH of a solution can also be evaluated with the pH meter (Figure 1).
A pH indicator is a substance that changes colour over a particular pH range (e.g. methyl orange, methyl red, phenol red and litmus paper). The components of a solution that maintains constant pH in a particular solution is known as buffers.
Solutions used for microbiological investigations could either be acidic, basic or neutral; and it is the pH meter that can be used to determine the actual state of the solution based on the equilibrium between its weak acid and bases.
The main components of a pH meter include the voltmeter which gives the reading of the pH value of the solution and the glass electrode which is made of a special glass permeable to only hydrogen ions (H+).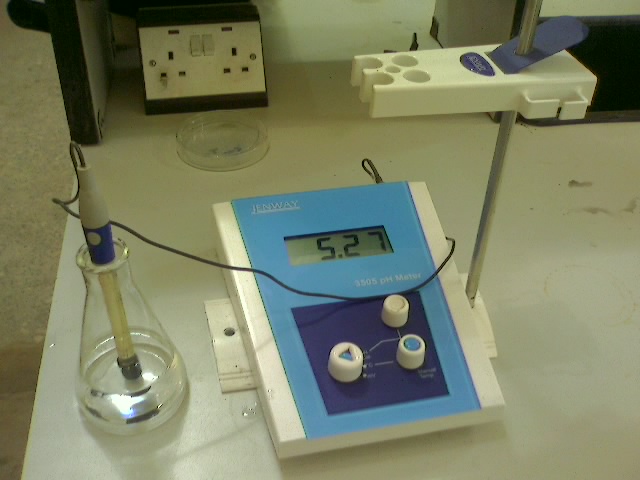 MAINTENANCE/CARE OF THE pH METER
Always follow the owner's manual or manufacturer's instruction when using the pH meter.
The glass electrode must always be handled with care and kept in its holder to avoid breakage.
The pH meter should be kept in a dry place.
The glass electrode should always be immersed in a buffer to maintain/increase shelf life.
REFERENCES
Cheesbrough, M (2006). District Laboratory Practice in Tropical countries Part I Cambridge
Chung K.T, Stevens Jr., S.E and Ferris D.H (1995). A chronology of events and pioneers of microbiology. SIM News, 45(1):3–13.
Dictionary of Microbiology and Molecular Biology, 3
rd
Edition. Paul Singleton and Diana Sainsbury. 2006, John Wiley & Sons Ltd. Canada.
Goldman E and Green L.H (2008). Practical Handbook of Microbiology, Second Edition. CRC Press, Taylor and Francis Group, USA.
Madigan M.T., Martinko J.M., Dunlap P.V and Clark D.P (2009). Brock Biology of microorganisms. 12
th
edition. Pearson Benjamin Cummings Publishers. USA.
Nester E.W, Anderson D.G, Roberts C.E and Nester M.T (2009). Microbiology: A Human Perspective. Sixth edition. McGraw-Hill Companies, Inc, New York, USA.
Prescott L.M., Harley J.P and Klein D.A (2005). Microbiology. 6th ed. McGraw Hill Publishers, USA.
Willey J.M, Sherwood L.M and Woolverton C.J (2008). Harley and Klein's Microbiology. 7th ed. McGraw-Hill Higher Education, USA.