Passive air monitoring is usually done using special type of Petri dish plates known as settle plates. These culture plates are standard Petri dishes (measuring about 90 mm in diameter) that containing appropriate culture media that are opened and exposed for a given time and then incubated to allow visible colonies to develop and be counted. The settle plates or sedimentation plates are usually exposed for a period of 30 to 60 minutes prior to incubation at ambient temperature; and plates for passive air monitoring is not exposed for more than four hours.
The results from a settle plate are expressed in CFU/plate/time or in CFU/m2/hour. These culture plates help to monitor viable microbes that sediment out of the air and settle onto a surface of the culture plate over the time of exposure. Nevertheless, settle plates are very limited in their application since they are only really capable of monitoring viable biological particles that sediment out of the air and settle onto a surface over the time of exposure. The results obtained in using the settle plates are not quantitative because they do not detect smaller particles or droplets suspended in the air and they cannot also sample specific volumes of air.
They are also vulnerable to interference and contamination from non-airborne sources. In addition, the agar (growth) medium in the plates may deteriorate if they are exposed for a long time. Settle plates may easily become overgrown in heavily contaminated conditions and this makes result interpretation to be difficult.
Despite the several disadvantages of using the settle plates for the passive monitoring of air quality, this method of air monitoring is usually cheap and easy to use. The settle plates are inexpensive and easy to use, and they require no special equipment (Figure 1). They are useful for qualitative analysis of airborne microorganisms inclusive of bacteria and fungi; and the data they produce may detect underlying trends in airborne contamination. The data they generate may also provide early warning of possible contamination in any given environment.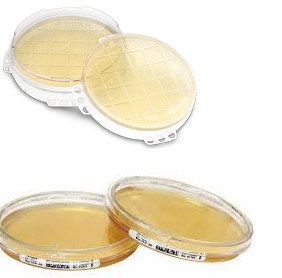 Settle plates are also useful for directly monitoring airborne contamination of specific surfaces. In an environment such as a low risk food factory or a hospital or research facility, settle plates may provide an adequate means of monitoring biological air quality. The best use of settle plate for air monitoring is in those test method for which the use of other, more efficient sampling methods may not be possible or may have limited applicability.
Settle plates are most suitable for the qualitative analysis of airborne microbes such as moulds and bacteria. They are also suitable for personnel monitoring such as monitoring the presence of microbes on personnel wears and hand gloves. Culture media plates for passive air monitoring should include growth media such as soya bean casein digest agar and Sabouraud dextrose agar (SDA) that support the growth of a wide variety of microbes.

References
Arora D.R (2004). Quality assurance in microbiology. Indian J Med Microbiol, 22:81-86.
Ashutosh Kar (2008). Pharmaceutical Microbiology, 1st edition. New Age International Publishers: New Delhi, India. 
Axelsen P.H (2002). Essentials of antimicrobial pharmacology. Humana Press, Totowa, New Jersey, USA. Al-Jasser A.M (2006). Extended – Spectrum Beta – Lactamases (ESBLs): A Global Problem. Kuwait Medical Journal, 38(3):171-185.
Bisht R., Katiyar A., Singh R and Mittal P (2009). Antibiotic Resistance – A Global Issue of Concern. Asian Journal of Pharmaceutical and Clinical         Research, 2 (2):34-39.
Block S.S (2001). Disinfection, sterilization and preservation. 5th edition. Lippincott Williams & Wilkins, Philadelphia and London.
Joslyn, L. J. (2000). Sterilization by Heat. In S. S. Block (Ed.), Disinfection, Sterilization, and Preservation (5th ed., pp. 695-728). Philadelphia, USA: Lippincott Williams and Wilkins.
Nally J.D (Ed.) (2007). Good manufacturing practices for pharmaceuticals. Sixth edition. Informa Healthcare USA, Inc, New York.