Immunoglobulin G (IgG) is a monomeric antibody and the most predominant immunoglobulin in secondary (memory) immune response to an invading antigen. It accounts for about 80 % of the total immunoglobulin pool in blood serum or plasma and tissue fluids. IgG unlike other immunoglobulins crosses the placental barrier, and thus it provides the neonate or newborns with humoral immunity during the first six months of life.
Immunoglobulin G (Figure 1) is a moderate complement fixing antibody, and it mediates antibody dependent cell- mediated cytotoxicity (ADCC). IgG has a molecular weight of about 150,000 DA. The ability of IgG to cross the placenta gives it an additional biological function of providing naturally acquired passive immunity to neonates in utero and even at birth.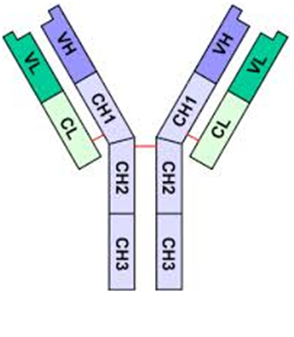 IgG appears late during an infection and it persist longer in the bloodstream unlike the other immunoglobulin isotypes. The binding of IgG to pathogenic microorganisms inclusive of bacteria and viruses facilitates the opsonization and phagocytosis of the invading antigens.
Microbial cells that are opsonized are easily phagocytosed than non-opsonized antigens. IgG is mainly used in immunological research because of its relative abundance in blood serum/plasma and its high affinity and specificity for antigens.  
REFERENCES
Abbas A.K, Lichtman A.H and Pillai S (2010). Cellular and Molecular Immunology. Sixth edition. Saunders Elsevier Inc, USA.
Actor J (2014). Introductory Immunology. First edition. Academic Press, USA.
Alberts B, Bray D, Johnson A, Lewis J, Raff M, Roberts K and Walter P (1998). Essential Cell Biology: An Introduction to the Molecular Biology of the Cell. Third edition. Garland Publishing Inc., New York.
Bach F and Sachs D (1987). Transplantation immunology. N. Engl. J. Med. 317(8):402-409.
Barrett   J.T (1998).  Microbiology and Immunology Concepts.  Philadelphia,   PA:  Lippincott-Raven Publishers. USA.
Jaypal V (2007). Fundamentals of Medical Immunology. First edition. Jaypee Brothers Medical Publishers (P) Ltd, New Delhi, India.
John T.J and Samuel R (2000). Herd Immunity and Herd Effect: New Insights and Definitions. European Journal of Epidemiology, 16:601-606.
Levinson W (2010). Review of Medical Microbiology and Immunology. Twelfth edition. The McGraw-Hill Companies, USA.
Roitt I, Brostoff J and Male D (2001). Immunology. Sixth edition. Harcourt Publishers Limited, Spain.
Zon LI (1995). Developmental biology of hematopoiesis. Blood, 86(8): 2876–91.