Incubator is a piece of equipment which is used in the microbiology laboratory to provide optimum temperature and oxygen concentration amongst other vital environmental factors required for the growth of microorganisms.
It is generally used for growing microbial cultures inclusive of fungi and bacteria. The incubator supplies and maintains optimum growth physical and chemical conditions required for the development of microbial cells.
Temperature, humidity, oxygen and carbondioxide (CO2) are some of the factors provided by the incubator for the growth of microbes in microbiology laboratory.
Petri dishes or culture plates containing microorganisms are placed inside the incubator and it is regulated and left for specific time and temperature during which the cultured organism is expected to replicate and increase in its cell size.
For example, bacteria are incubated for 18-24 hours at 37oC. The incubation time and temperature varies for the different types of microorganisms; and it is important to note this so that the culture process of which the incubator (Figure 1) plays a vital role will be successful.    
MAINTENANCE/CARE OF THE INCUBATOR
Always read the owner's manual before using the incubator.
Keep the incubator clean and clean off spilled liquids using a dry towel.
Ensure the power source of the incubator is on when in use, and off when not in use.
Culture media plates and bottles should be properly stacked in the incubator to avoid them from following over.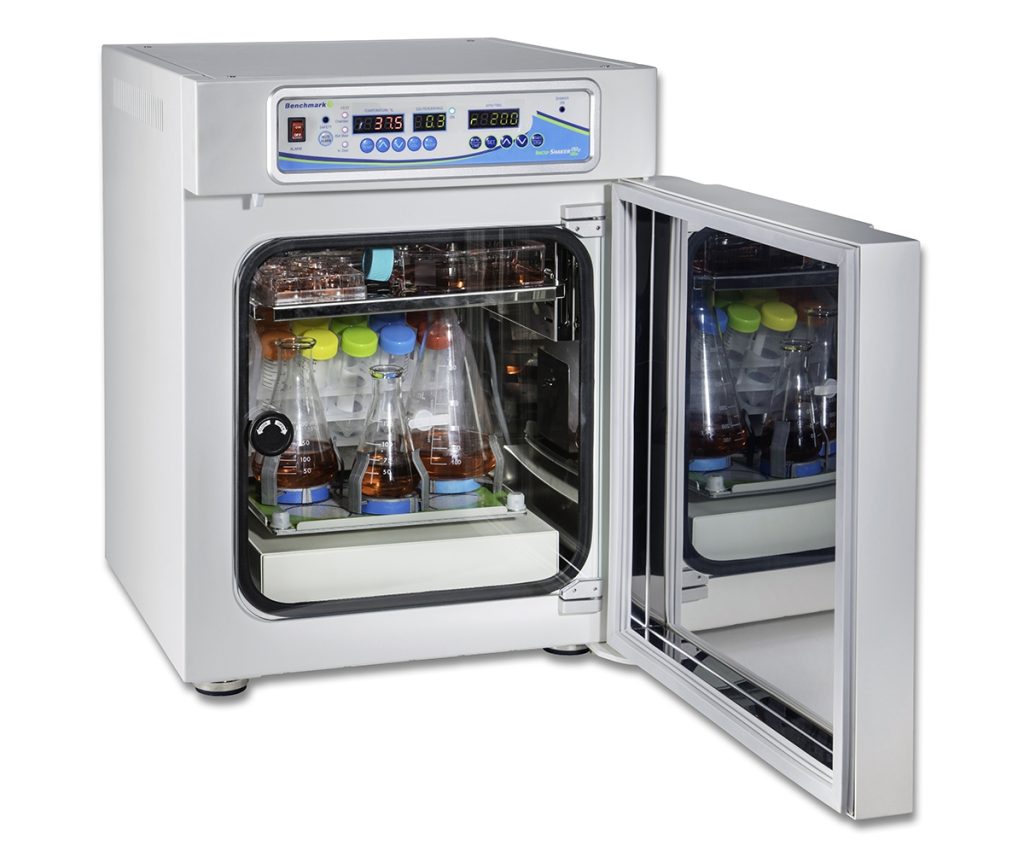 REFERENCES
Cheesbrough, M (2006). District Laboratory Practice in Tropical countries Part I Cambridge
Chung K.T, Stevens Jr., S.E and Ferris D.H (1995). A chronology of events and pioneers of microbiology. SIM News, 45(1):3–13.
Dictionary of Microbiology and Molecular Biology, 3rd Edition. Paul Singleton and Diana Sainsbury. 2006, John Wiley & Sons Ltd. Canada.
Goldman E and Green L.H (2008). Practical Handbook of Microbiology, Second Edition. CRC Press, Taylor and Francis Group, USA.
Madigan M.T., Martinko J.M., Dunlap P.V and Clark D.P (2009). Brock Biology of microorganisms. 12th edition. Pearson Benjamin Cummings Publishers. USA.
Nester E.W, Anderson D.G, Roberts C.E and Nester M.T (2009). Microbiology: A Human Perspective. Sixth edition. McGraw-Hill Companies, Inc, New York, USA.
Prescott L.M., Harley J.P and Klein D.A (2005). Microbiology. 6th ed. McGraw Hill Publishers, USA.
Willey J.M, Sherwood L.M and Woolverton C.J (2008). Harley and Klein's Microbiology. 7th ed. McGraw-Hill Higher Education, USA.