The sample collection unit is one of the most important units in the clinical microbiology laboratory because it acts as a middle man between the patients and the microbiologists working in the laboratory. The sample collection unit is largely responsible for the collection of different clinically important specimens from patients (both outgoing and in-patients), registration of the specimens in the laboratory record book, and subsequent dispatch of laboratory test results to patients and the appropriate wards for further processing. 
This unit also guides and tells patients on how best to obtain the right type of specimen for laboratory examination without contamination. It also gives specimen collection containers and swab sticks to patients for specimen collection (Figure 1). An extension of this unit is the revenue unit where the costing and payment for laboratory tests are undertaken. In addition to this, workers in this unit also make sure that specimens are sent on time to the microbiologists on duty in the laboratory so that work can be carried out on the specimen without delay because delay can be very dangerous and detrimental when allowed. Hospital personnel in the sample collection unit also guide and assist patients on how best to collect specimens that are clinically relevant.
According to the quote of a famous microbiologist, Cynthia A. Needham: The specimen is the beginning. All diagnostic information from the microbiology laboratory depends upon the knowledge by which the specimens are chosen and the care with which they are collected and transported. Therefore, staff in this unit must be up and doing in making sure that the patients are properly guided on specimen collection and this should be done with a smiling face because a smile can turn around the ailing condition of a patient to normal.
Specimen is defined as a portion or quantity of human material that is tested, examined, or studied to determine the presence or absence of a particular pathogenic microorganism. Urine, blood, sputum, and swabs from various sites of the body as well as from other hospital and non-hospital sites are typical examples of some specimens collected and processed in the clinical microbiology laboratory.
Clinical samples for laboratory diagnosis of infectious disease are collected from various sites of the body of sick patients (inclusive of asymptomatic individuals in special cases) in aseptic manner to minimize possible contamination of the specimen (Figure 1). It is critical that all the equipment or instruments required for specimen collection are microbial-free; and the medical staff involved in collecting clinical samples should ensure appropriate precautionary measures in doing so in order to avoid direct contamination.
All clinical samples should be treated as health-risk and handled with care en-route the laboratory for further processing. Microbiologists working in such laboratories make it a priority to unravel the causative agents of a particular disease, and these clues help the physician to set up a proper treatment plan for the affected patient. And in cases where disease outbreak have occurred, clinical microbiologists assists other healthcare practitioners to end the disease spread by testing of specimens from individuals and other abiotic sites in order to decipher the infecting pathogenic microorganism.
REGISTRATION OF PATIENT'S SPECIMEN
The registration of patient's specimens is one of the most important task or procedure undertaken in the microbiology laboratory prior to their examination because it helps in preventing any chaos that might emanate in the dispatch of laboratory test results to individual patients. During the registration process, the patient's age, sex, ethnic group, consulting physician, type of test to be performed, type of specimen received, cost of the test, hospital number, date received, and date dispatched are all taken into record. Automated systems also exist for the registration of sample collection as well as dispatch of patients laboratory test results.
This is done for effective record keeping purposes and the laboratory register in the reception unit is used for this purpose. After this process, the specimen together with the patient's laboratory request form is forwarded to the microbiologists in the laboratory who will now process the specimen and subsequently return the result of the test to the reception unit where the patient can obtain it.
The result of the test performed is also recorded in another register before the patient can finally collect it to show it to his or her consulting physician so that appropriate action can be taken towards treatment. Susceptibility test results are also made available in cases where they are necessary so that the patient's therapy can be clinically guided. 
Specimen collection precedes any microbiological examination as it is only the specimen that can be examined to decipher any clinical abnormality in the patient. Clinical specimens are collected from several sites of the body; and the investigator must ensure that the specimen is collected in an aseptic manner (Figure 2). It is noteworthy that a properly collected specimen is the single most important step in the microbiological diagnosis of an infection.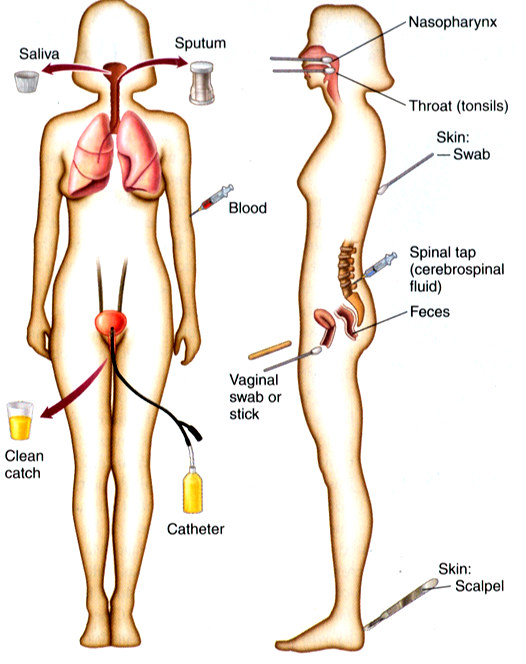 The correct quantity and type of specimen should be collected and the specimen must be a representative of the infectious process (e.g. a sputum and not saliva should be collected for upper or lower respiratory tract infection; and a swab from the depth of the wound, not from the surface of the wound should be collected for burn or wound infections).
The timing of specimen collection should also be strictly adhered to as it will help the laboratory examination process. For example, it is advisable to obtain specimens from patients prior to antibiotic administration as this will help to isolate the pathogen involved in the pathologic/disease state of the affected patient before antibiotic usage. If the specimen is collected after taking a drug, there is likelihood that the drug taken will inhibit or better still interfere with the quality of the pathogen from the specimen to be collected.
The method of collecting the specimen is also very important. Aseptic techniques should be used in the collection of specimens in order to avoid contamination with irrelevant microorganisms. Practicing aseptic technique during the collection of clinical specimens also ensures that specimen containers are sterile and free from contaminants and that the specimens are obtained in a sterile manner.
After collection of the specimen, it is very important to label the container containing the specimen with the patient's data so as to avoid any chaos on transit; and finally the specimen should be transported to the clinical microbiology laboratory as soon as possible for further microbiological analysis. In cases where delay is unavoidable, the specimen should be suitably stored in a preservative or transported using a transport culture medium e.g. Amies transport medium (Figure 3). Patients should also be properly guided in the collection of some specimens such as sputum, midstream urine (MSU) and stool amongst other specimens in order to get the correct sample for microbiological analysis.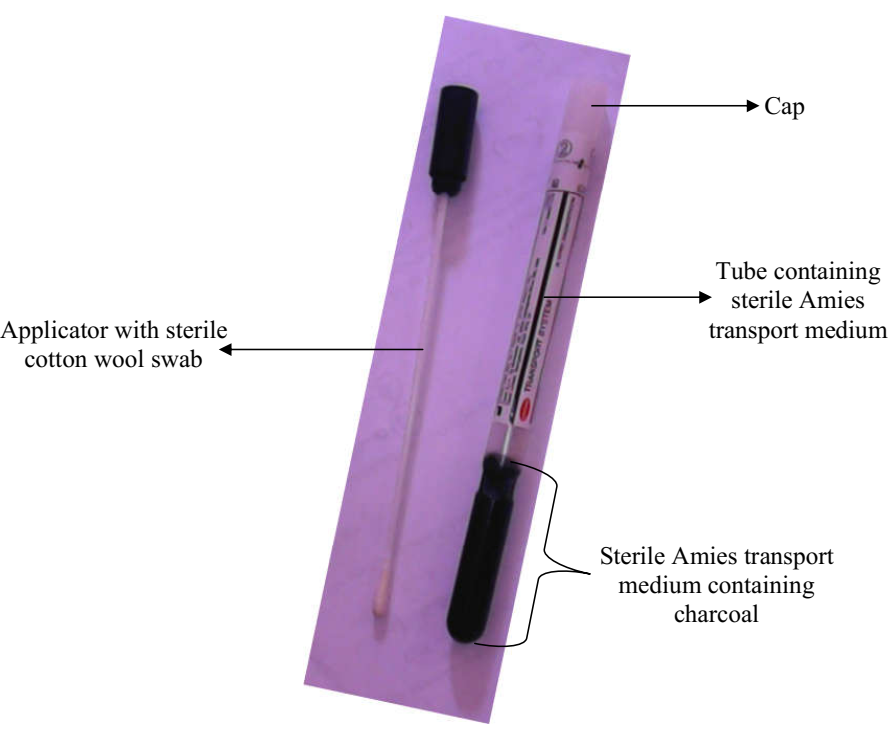 In using the Amies transport swab, remove the cap from the tube, and collect the specimen and/or isolate with the applicator. Replace applicator in tube after collecting specimen, and store at 25oC until use. Note: The Amies transport medium as shown here contains charcoal which prolongs the viability of the pathogenic microbe; and the medium can be used to transport both aerobic and anaerobic bacteria. The charcoal also helps to neutralize growth inhibitory factors in the collected sample being transported; and transport medium generally help to prevent the drying of collected specimens and overgrowth of commensals/unwanted bacteria or contaminating microorganisms in the specimen. Other transport media includes Cary-Blair transport medium and Stuart transport medium; and most transport medium is semi-solid in consistency or form.
REFERENCES
Atlas R.M (2010). Handbook of Microbiological Media. Fourth edition. American Society of Microbiology Press, USA.
Balows A, Hausler W, Herrmann K.L, Isenberg H.D and Shadomy H.J (1991). Manual of clinical microbiology. 5th ed. American Society of Microbiology Press, USA.
Beers M.H., Porter R.S., Jones T.V., Kaplan J.L and Berkwits M (2006). The Merck Manual of Diagnosis and Therapy. Eighteenth edition. Merck & Co., Inc, USA.
Black, J.G. (2008). Microbiology:  Principles and Explorations (7th ed.). Hoboken, NJ: J. Wiley & Sons.
Brooks G.F., Butel J.S and Morse S.A (2004). Medical Microbiology, 23rd edition. McGraw Hill Publishers. USA. Pp. 248-260.
Dictionary of Microbiology and Molecular Biology, 3rd Edition. Paul Singleton and Diana Sainsbury. 2006, John Wiley & Sons Ltd. Canada.
Dubey, R. C. and Maheshwari, D. K. (2004). Practical Microbiology. S.Chand and Company  LTD, New Delhi, India.
Garcia L.S (2010). Clinical Microbiology Procedures Handbook. Third edition. American Society of Microbiology Press, USA.
Garcia L.S (2014). Clinical Laboratory Management. First edition. American Society of Microbiology Press, USA.
Madigan M.T., Martinko J.M., Dunlap P.V and Clark D.P (2009). Brock Biology of Microorganisms, 12th edition. Pearson Benjamin Cummings Inc, USA.
Mahon C. R, Lehman D.C and Manuselis G (2011). Textbook of Diagnostic Microbiology. Fourth edition. Saunders Publishers, USA.
Prescott L.M., Harley J.P and Klein D.A (2005). Microbiology. 6th ed. McGraw Hill Publishers, USA. Pp. 296-299.
Ryan K, Ray C.G, Ahmed N, Drew W.L and Plorde J (2010). Sherris Medical Microbiology. Fifth edition. McGraw-Hill Publishers, USA.
Salyers A.A and Whitt D.D (2001). Microbiology: diversity, disease, and the environment. Fitzgerald Science Press Inc. Maryland, USA.