Laminar flow biological safety cabinet is an air filtration system which protects a laboratory worker from microorganisms or contamination by cells being handled within the cabinet. The laminar flow biological safety cabinet also protects the laboratory room or environment where the work is done from potential danger and aerosols emanating from harmful microorganisms. Work done under the laminar flow biological safety cabinet will help to prevent aerosols generated during work or from specimens to come in contact with the microbiologist or scientist that is working within the cabinet.
The laminar flow cabinet can also be called hood according to some researchers in cell culture laboratories. The biosafety laminar flow cabinet is designed in such a way that it protects both the worker and the environment from any potential hazard emanating from the experiment. It also creates a safe working environment within the microbiology laboratory where microbiologists can perform experimentations and harmful organisms or substances could be effectively contained without escape to the laboratory environment.
In using the biosafety cabinet, it is crucial to have all necessary experimental tools within the hood before starting the experiment. The hood should also be properly disinfected with 70 % ethanol/alcohol; and should be left for some time (e.g. 10 mins) before commencing the experiment. Ensure to maintain a proper sitting posture when using the hood and the protective visible glass (cabinet lid) should be well below the eye level for proper protection of the worker.
Always disinfect the hood and the working tools after the experimentation, and the cabinet lid should also be closed after which. All users of the hood should be fully aware of all the limitations of the laminar flow biological safety cabinet (Figure 1) as well as the manufacturer's instructions and other safety measures to imbibe while using the hood in order to get the best service out of it.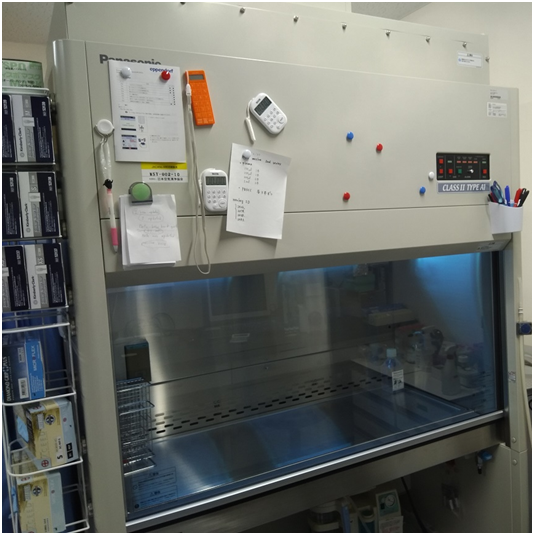 Aerosols are minute (small) particles dispersed in gaseous form during your work. They are suspension of particles in airborne water droplets. For example when you sneeze, the particles that is emitted or generated from your mouth are typical examples of aerosols. That is why it is advisable for you to use a handkerchief to cover your mouth while sneezing or coughing so that you don't infect people around you with what is coming out of your mouth.
Also, as we do our work in the microbiology laboratory, we experience splashes or particles dispersed from the work we are doing. Such particles are called aerosols. It is advisable to work under a laminar flow biological safety cabinet whenever the production of aerosols in our work is anticipated.
REFERENCES
Atlas R.M (2010). Handbook of Microbiological Media. Fourth edition. American Society of Microbiology Press, USA.
Balows A, Hausler W, Herrmann K.L, Isenberg H.D and Shadomy H.J (1991). Manual of clinical microbiology. 5th ed. American Society of Microbiology Press, USA.
Beers M.H., Porter R.S., Jones T.V., Kaplan J.L and Berkwits M (2006). The Merck Manual of Diagnosis and Therapy. Eighteenth edition. Merck & Co., Inc, USA.
Black, J.G. (2008). Microbiology:  Principles and Explorations (7th ed.). Hoboken, NJ: J. Wiley & Sons.
Brooks G.F., Butel J.S and Morse S.A (2004). Medical Microbiology, 23rd edition. McGraw Hill Publishers. USA. Pp. 248-260.
Dictionary of Microbiology and Molecular Biology, 3rd Edition. Paul Singleton and Diana Sainsbury. 2006, John Wiley & Sons Ltd. Canada.
Dubey, R. C. and Maheshwari, D. K. (2004). Practical Microbiology. S.Chand and Company  LTD, New Delhi, India.
Garcia L.S (2010). Clinical Microbiology Procedures Handbook. Third edition. American Society of Microbiology Press, USA.
Garcia L.S (2014). Clinical Laboratory Management. First edition. American Society of Microbiology Press, USA.
Madigan M.T., Martinko J.M., Dunlap P.V and Clark D.P (2009). Brock Biology of Microorganisms, 12th edition. Pearson Benjamin Cummings Inc, USA.
Mahon C. R, Lehman D.C and Manuselis G (2011). Textbook of Diagnostic Microbiology. Fourth edition. Saunders Publishers, USA.
Prescott L.M., Harley J.P and Klein D.A (2005). Microbiology. 6th ed. McGraw Hill Publishers, USA. Pp. 296-299.
Ryan K, Ray C.G, Ahmed N, Drew W.L and Plorde J (2010). Sherris Medical Microbiology. Fifth edition. McGraw-Hill Publishers, USA.
Salyers A.A and Whitt D.D (2001). Microbiology: diversity, disease, and the environment. Fitzgerald Science Press Inc. Maryland, USA.