Weighing balances are used to measure the weight of objects (particularly powdered agar and reagents) in the microbiology laboratory.
Several weighing balances exist for measuring media and other substances in the microbiology laboratory and they include mechanical weighing balance and chemical or analytical weighing balances amongst others.
They provide accurate readings or values of material required for microbiological investigations. 
MAINTENANCE/CARE OF THE WEIGHING BALANCE
Always follow the owner's instructions for the operation of each weighing balance (Figure 1).
Clean the balance pan after each use with a dry towel.
Allow the balance pan to dry before storage.
Do not store the equipment in moist environment.
Lubricate (oil) the nuts and bolts parts of the weighing balance.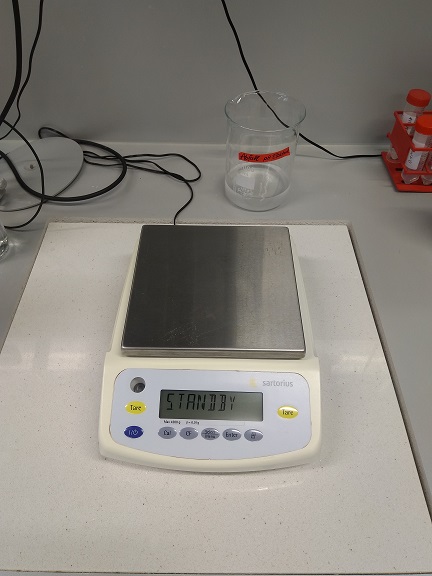 REFERENCES
Cheesbrough, M (2006). District Laboratory Practice in Tropical countries Part I Cambridge
Chung K.T, Stevens Jr., S.E and Ferris D.H (1995). A chronology of events and pioneers of microbiology. SIM News, 45(1):3–13.
Dictionary of Microbiology and Molecular Biology, 3rd Edition. Paul Singleton and Diana Sainsbury. 2006, John Wiley & Sons Ltd. Canada.
Goldman E and Green L.H (2008). Practical Handbook of Microbiology, Second Edition. CRC Press, Taylor and Francis Group, USA.
Madigan M.T., Martinko J.M., Dunlap P.V and Clark D.P (2009). Brock Biology of microorganisms. 12th edition. Pearson Benjamin Cummings Publishers. USA.
Nester E.W, Anderson D.G, Roberts C.E and Nester M.T (2009). Microbiology: A Human Perspective. Sixth edition. McGraw-Hill Companies, Inc, New York, USA.
Prescott L.M., Harley J.P and Klein D.A (2005). Microbiology. 6th ed. McGraw Hill Publishers, USA.
Willey J.M, Sherwood L.M and Woolverton C.J (2008). Harley and Klein's Microbiology. 7th ed. McGraw-Hill Higher Education, USA.